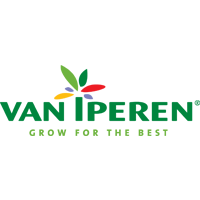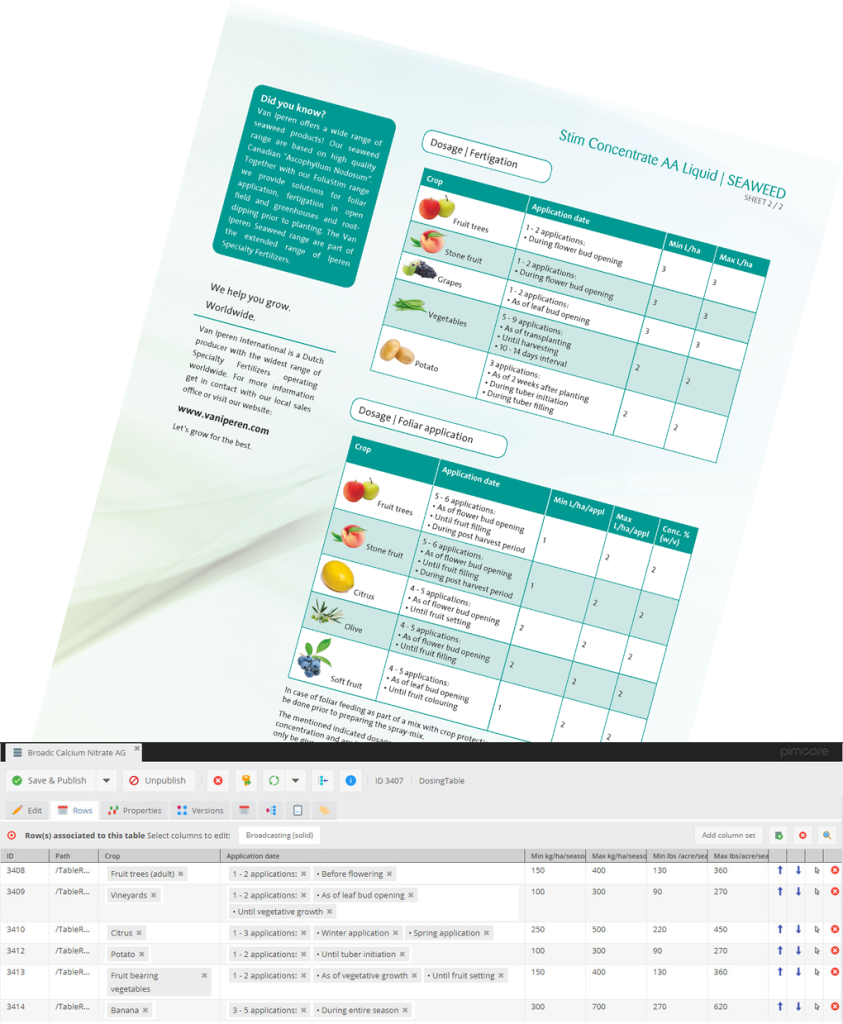 Single source database for global fertilizer producer
Van Iperen is recognized worldwide as Specialty Fertilizer producers. They collaborate with local partners and closely work with their clients. Van Iperen employees represent over 15 nationalities, speak 20 languages and serve clients in over 90 countries.
Business Needs
Van Iperen's products are documented through several documents; for example, product leaflets and technical data sheets. These documents were manually layout in Indesign, mixing previous versions with newer data gathered from various sources (Excel, Word or outlook files). Each document contains a lot of data in tables. The original process was time-consuming and slowing the process of the product renewal; translation and expansion to other brands.
At the same time, 2 other subsystems were requesting reliable data coming from a computer database: The new website and a calculation module.
Pimcore Solution
Setting up a Pimcore database combined with automated database publishing was the shortest path to data accuracy. We add product updates to hundreds of documents in most world languages in a snap.

Marc van Oers, Marketing Manager, Van Iperen International
Pimcore was installed by Tetrasoft who is also known for its database publishing software called "Leaflet." Leaflet can connect live to the Pimcore database and publish documents of any size and complexity on demand. Pimcore has an ideal database structure for tapping the full potential of its data. It's powerful, extendable and, quite surprisingly, reasonably easy to use.
The Pimcore PIM succeeded easily to provide a bespoke database for the specific case of bulk products with a high level of technical content while delivering user-friendly screens and allowing for the make-up of attractive, but technically complete documents for customers and prospects.
The integrated Pimcore DAM gathers all CMYK high-resolution pictures for the PDF documents and converts them to RGB low-resolution pictures for the website.
The missing parts of the puzzle were added as plug-ins by the implementation partner Tetrasoft.
Business Results
Installing the Pimcore PIM database serving 3 subsystems (PDF product documents, website, and calculation module) was crucial for project success and organization productivity. This project was completed with very few people, and it is not anticipated to require additional personnel to keep the new systems running.
The single-source database that feeds all subsystems and the automation of the production of documents give the marketing department the adequate tools to concentrate on seizing opportunities and conquer new markets at a sustained pace.
The budget of the whole project was attractive and helped Van Iperen go for it at a moment the outcome was full of uncertainty. You can rely on quality open-source software like Pimcore.